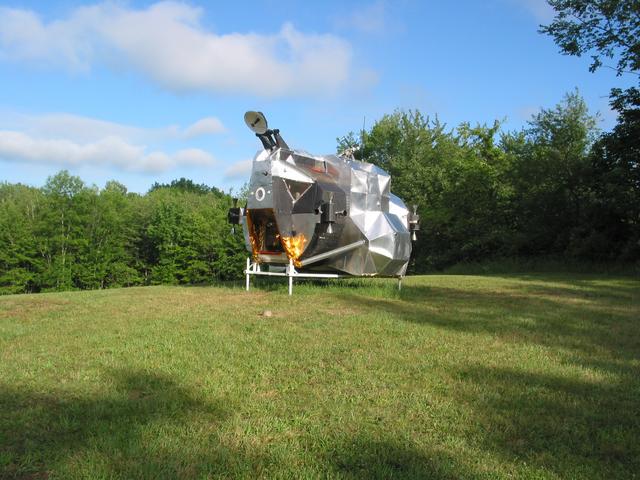 Lunar Excursion Module
From a text created at Brower Propulsion Laboratory Headquarters, describing this project which was realized over several years, through research and construction entirely conducted by one person (also the sole employee of BPL):
Beginning in 1999, BPL initiated the recreation of the machine that ferried astronauts to and from the moon's surface during the Apollo Program in the 1960's. The objective was to reproduce a NASA project as closely as possible to the original. The purpose was similar to the original, too, but reduced in scale. Since BPL is not comparable to NASA in the breadth of its budget or the depth of its knowledge, the project was undertaken as a 'crash course' in learning about this subject matter. BPL was forced to learn completely new skills and techniques to accomplish the reconstruction of the LEM. This mimicked NASA's invention of new materials and systems to accomplish the goal of getting to the moon and back. Where NASA invented, say, a new fabric which became Kevlar, BPL learned how to sew. When NASA employed 'chemical milling' to create the components of its spacecraft, BPL learned how to weld.
BPL's first LEM is now on the island of Sardinia (See "Vacuum" section of this website); The second LEM, pictured here, was exhibited at the gallery Parker's Box in 2004, then moved to the outdoor sculpture park, Art Omi, and now is hanging in The Museum Of Flight, in Seattle, Washington. The circuit of this project, originating in research in 'space' museums, then moving from site to site, indoors and out, in an art context, and finally coming to rest in another 'space' museum was an unplanned but satisfying 'mission objective'.
LEM Poster
(pdf 1.2mb)
Projects
Steven Brower home